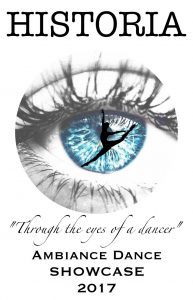 CONCERT 2017


HISTORIA



"Through the eyes of a dancer"
Adult Adult tickets 16yrs above $39.00
Youth & Pensioner Youth 13-15yrs $29.00
(please provide concession card on entry)
Child Child 2yrs-12yrs $26.50
(Any children over 2yrs of age require a ticket in accordance with theatre rules, they will not be able to sit on your lap)
SHOW DETAILS
Saturday 16th December
12:30pm Matinee Show
5:30pm Evening Show
VENUE
Redmond Theatre – Prendiville Performing Arts Centre
11 Prendiville Avenue
OCEAN REEF, WA 6027
Ambiance Dance Company presents their annual showcase inspired by the history of dance seen "through the eyes of a dancer".
Our team is united in coming together, staying together and working together to create life changing experiences for every single member of Ambiance Dance.
The Ambiance Team of teachers and students have worked extremely hard to create this amazing show and I know you will enjoy every moment.